No.1
Document Title:

Final Testament and Letter(To my fiancée)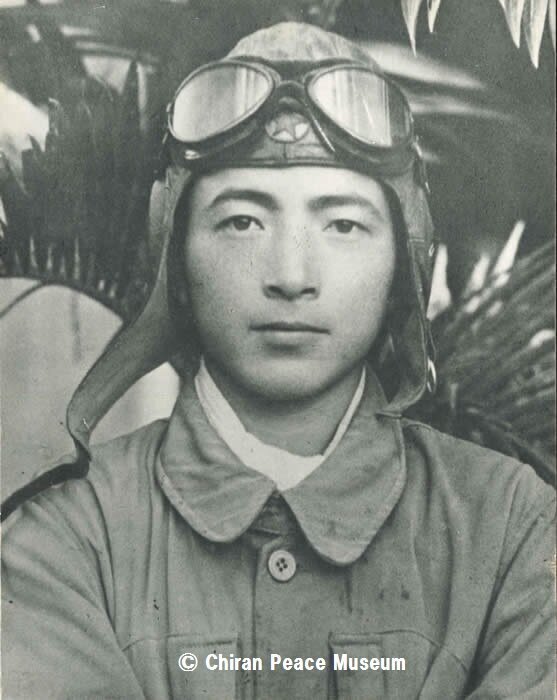 Document photo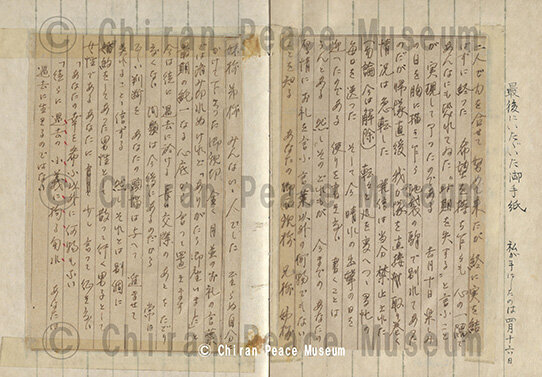 Document Information
Material model
Final Testament and Letter
Remarks
His fiancée, Chieko-san received this letter 4 days after his death, on April 16, 1945.
quantity
4
Medium
paper, pen
size(cm)
20×13
Creation date
1945
Related kamikaze member information
Name(Sex)
Captain Toshio Anazawa(M)
Post-war class
Captain
age
23
Sortie base
Chiran
Birthplace
Kitakata City, Fukushima Pref.
Airplane
Nakajima Ki-43
Home school
Chuo Univ.
Unit name
The 20th Shinbu-tai
Date of death
April 12, 1945
By period of origin
Special Flight Probationary Officer Class 1
Remarks

Captain Anazawa had a fiancée named Chieko-san to whom he became engaged while he was a university student. While he was waiting for his operation order, Chieko-san presented him a scarf, saying, "I would never like to be a dignified cap or sword, but, if ever possible, I would like to be a white flight scarf. Then, I would be with you all the time." When Captain Anazawa flew out on his mission, he wrapped her scarf over his neck beneath his flight scarf.
Contents
The two of us tried so hard by working together, but in the end we were unable to find a way to be united. Even while we were holding out hope, the fear lurking in our hearts that we might "miss the chance" has now become a reality. Cherishing in our heart the happy days of the future, we said goodbye at Ikebukuro station on 10th of last month, but as soon as I returned to base, the situation for our squadron took a major turn. All correspondence was forbidden for the duration. (Now of course that ban has been lifted.) We've spent busy days moving from place to place. And now, the magnificent day of my attack sortie has arrived. I want to write you. I have so much I want to say. And yet, I know that all of them amount to nothing other than words of gratitude for your depth of the love you have shown me. Your parents, elder brother, elder sister, younger sister, younger brother: all of them were wonderful people. No conventional words of thanks can convey my gratitude for the many kindnesses they bestowed upon me, but still I will say with the purest of intentions from the bottom of my heart, "thank you ever so much." Now I don't want to fruitlessly revisit the past with our relationship. The question is the future. I believe that your innate intelligence will guide you at all times in judging the proper path. And yet, apart from this, speaking to the woman in you, I want to convey a few thing as a man to whom you were engaged, and as a man who will fall in battle.

"I wish for nothing other than your happiness."

"Don't waste your time with trifles from the past. You mustn't live in the past."

"Take courage, forget the past, and find new ways to be happy in the future."

"You have to live from now on in the reality of each moment. I, Anazawa, no longer exist in the world of reality."

This line of thought might seem extremely abstract, but when I ask you to live on making the most of each situation one by one, I think you'll understand that it isn't out of a sense of selfishness. I'm speaking from a position of pure objectivity. Here the cherry blossoms have already fallen. The young green leaves you love so much will soon come to usher in a new season of spring.

It seems silly to talk like this at such a time, but I feel like being a bit greedy for a moment.

1. Books I'd Like To Read

Man'yoshu

Kushu

Doutei

Ittensho

Furusato

2. Pictures I'd Like To See

Raphael's Madonna and Child

Hogai's Merciful Mother Kannon

3. Chieko, I want to meet you, to talk with you, with all my heart.

From here on, please go forward cheerfully and brightly. I too do my best not to trip over my feelings, but will head out to battle, smiling.

From Toshio

To Dear Chieko